Welcome to Fisher Island
The Vanderbilt's Mansion on Fisher Island: In the 1920s, Vanderbilt traded his steamer yacht for a piece of land that once was the tip of Miami Beach, to Carl Fisher, as they played poker. Today, it is just as exclusive: only get there by private ferry, yacht or helicopter. The Mansion, the golf course, 5 restaurants, yacht marina, etc is a now refuge for global billionaires and multi-millionaires. The once small "Tiki Hut" feels like South of France meets South Beach.

Fisher Island real estate is about luxury villas and a handful of opulent townhomes. They range from $2.5m to $25m+. There is an all-inclusive club membership ( $350k+), plus monthly building and quarterly FICA fees to cover the ferry and other fees. There are villas built prior to 2000 and then several phases of newer ones that move to a whole different level. Most of these are along Government Cut with lovely views.
One other component: the Fisher Island School is a world-class, private school. Only available to resident families.

Fisher Island beaches are so beautiful and exclusive in South Florida we have to give them a 6th Star! This island has no public access so you will only get there with a millionaire/ billionaire friend, a visit to their Leading Hotels of The World Inn or purchase of a $2m to $25M+ villa. Serene, so walkable, with the Club's "Tiki Hut" and sushi bar welcoming you. It feels like a bit of SoBe meeting the South of France. Yum! (Club members only).

I joined Fisher Island Club as a resident member in 2000 and enjoy bringing friends and clients there to see the unprecedented lifestyle it affords a select few.

Cue the ocean waves and warm Miami breeze. Fisher Island, the ultimate gated community for exclusivity, is bringing residents the definition of prestige in synthesis with serenity. Coined one of the most luxurious private islands in the United States, Fisher Island is an enclave of masterful estates and condominiums located just off MacArthur Causeway. Accessible via yacht, seaplane, helicopter and the island's own ferry service (accommodating private passenger, emergency and commercial vehicles only), this coastal oasis allows residents the epitome of supreme security with the privilege of no roads or highways connecting to the mainland. The use of a golf cart is the island's preferred method of transportation.
Fisher Island is comprised of mansions, villas and new modern towers, each ranging in size from 2,000 to 10,000 plus square-feet. Residential communities include but are not limited to: Bayside Village, Bayview Village, Harborview, Marina Village, Oceanside, Palazzo Del Mare, Palazzo Del Sol, Palazzo Del Luna, Seaside Village, Seaside Villas and Valencia Estates. Featuring a parade of exquisite amenities, aesthetics and décor, the properties in Fisher Island possess a quality thats indescribable. Offering a score of elite recreational facilities, a private club and hotel and resort, this iconic neighborhood presents a pantheon of luxury thats unlike any other community in South Florida.
World-Class Marina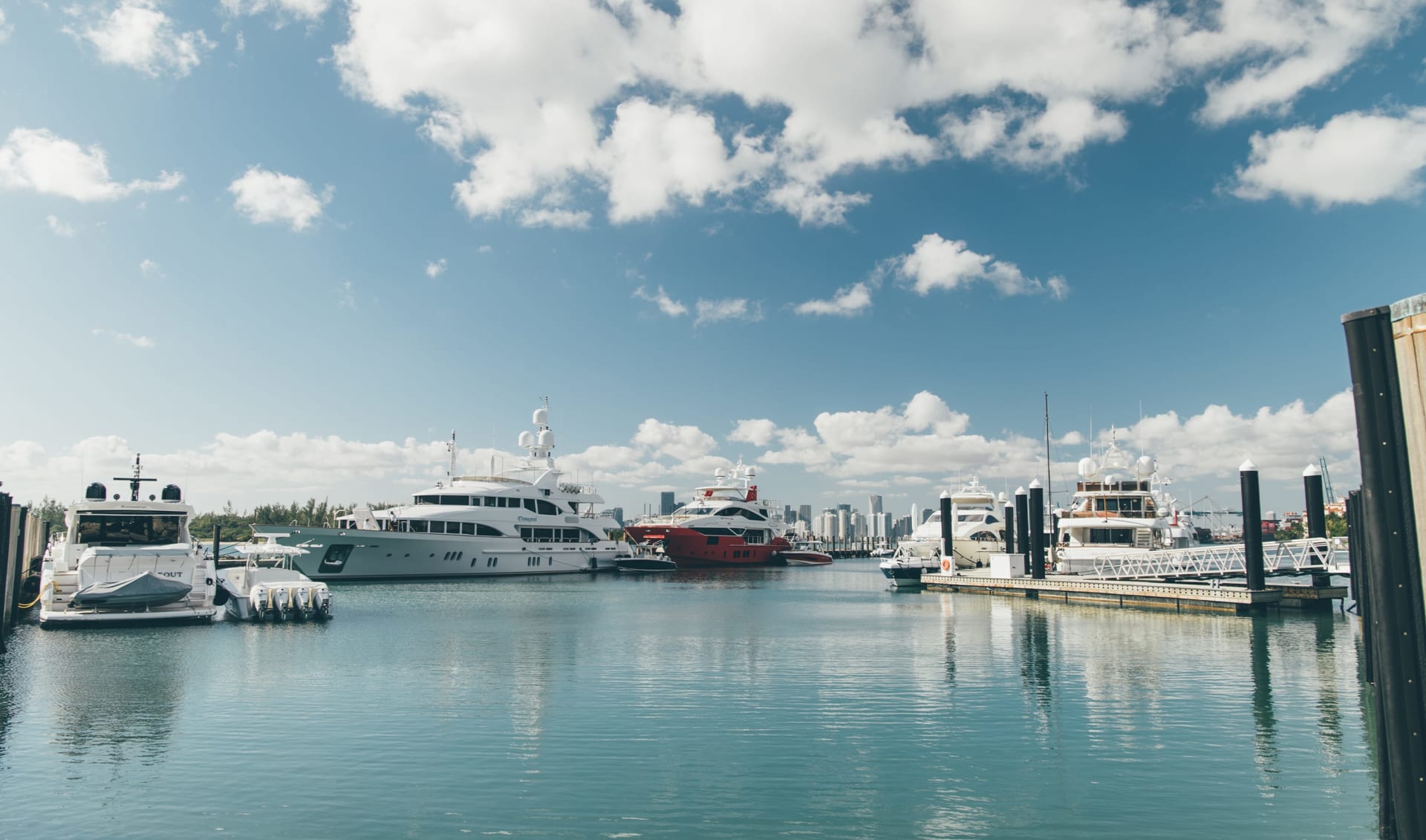 A passport to the aquatic, residents are granted the ability to live the boating lifestyle with two world-class surge-proof deep-water marinas that allow for over 100 plus slips and yachts of up to 250 feet. The deep-water marinas offer water depths of up to 15 feet and lead up to the entrance to both marinas (8 feet in the Main Marina and 12 feet in the Vanderbilt Marina). Additional marina amenities include water and electrical utilities, WiFi internet access, restrooms, showers, golf cart rentals, yacht and fishing charters, seaplane ramp for small boats and the Vanderbilt Mansion Club Pool. And no sailing holiday is complete without a nautical themed shop. Residents can indulge in the on-property ships store that showcases high-end items and accessories for all types of maritime travel.
Luxury Amenities
Steps away from the residences, property owners can seek refuge at the Beach Club & Pool featuring an outdoor sunset bar, private white sand beach with attendees and uninterrupted views of the nearby marina. The Spa Internazionale & Fitness allows for visionary world-class services with an internationally recognized spa, salon and fitness center complete with state-of-the-art Technogym equipment, spin studio and indoor lap pool. At the epicenter of the Fisher Island Club is the Vanderbilt Theater. Known to host elegant events such as the Fisher Island Music Festival and BeeGees tribute concert, members can experience lectures, live entertainment and movie nights all year round. This advanced venue comprises of a 1,900 square-foot movie theater, performance and event space with plush seating, retractable stage, 147-foot screen with True 4K Sony projector, full stereo and surround sound system, professional-grade microphone system and RTI Control System through Apple iPad mini.
Most unique to this balmy tropical sanctuary is the Aviary & Observatory. Inspired by the Vanderbilts adoration for tropical birds, Fisher Island houses over 15 exotic birds inside their 800 square-foot Aviary. Members both young and old can peruse this expansive enclosure and greet an array of welcoming cockatoos and cockatiels that are trained to say hello or interact with the vibrantly colored macaws, Amazons and conures. A haven for birds in need of aid-rescue, Fisher Island also doubles as an adoption and rehabilitation center. But whats most exceptional about Fisher Island is its Victor Arsidi Observatory. A gateway to the stars, this custom-made facility presents residents with an Ash Dome featuring a range of professional-level telescopes for a perfect view of the planets, galaxies, nebulas and double stars. The Victor Arsidi Observatory is one of the only observatories located at a resort in North America. Throughout the island, residents will find an abundance of five-star dining options. From a bright and white seaside pavilion at the Beach Club serving up casual fare to Porto Cervo offering an authentic Italian culinary experience with classic Mediterranean-style dishes, the gastronomic adventures are endless. Supplementary restaurants include Garwood Lounge & Piano Bar, City View & Library, Snooker Club, Greenside, La Trattoria, Island Market and In-Room Dining.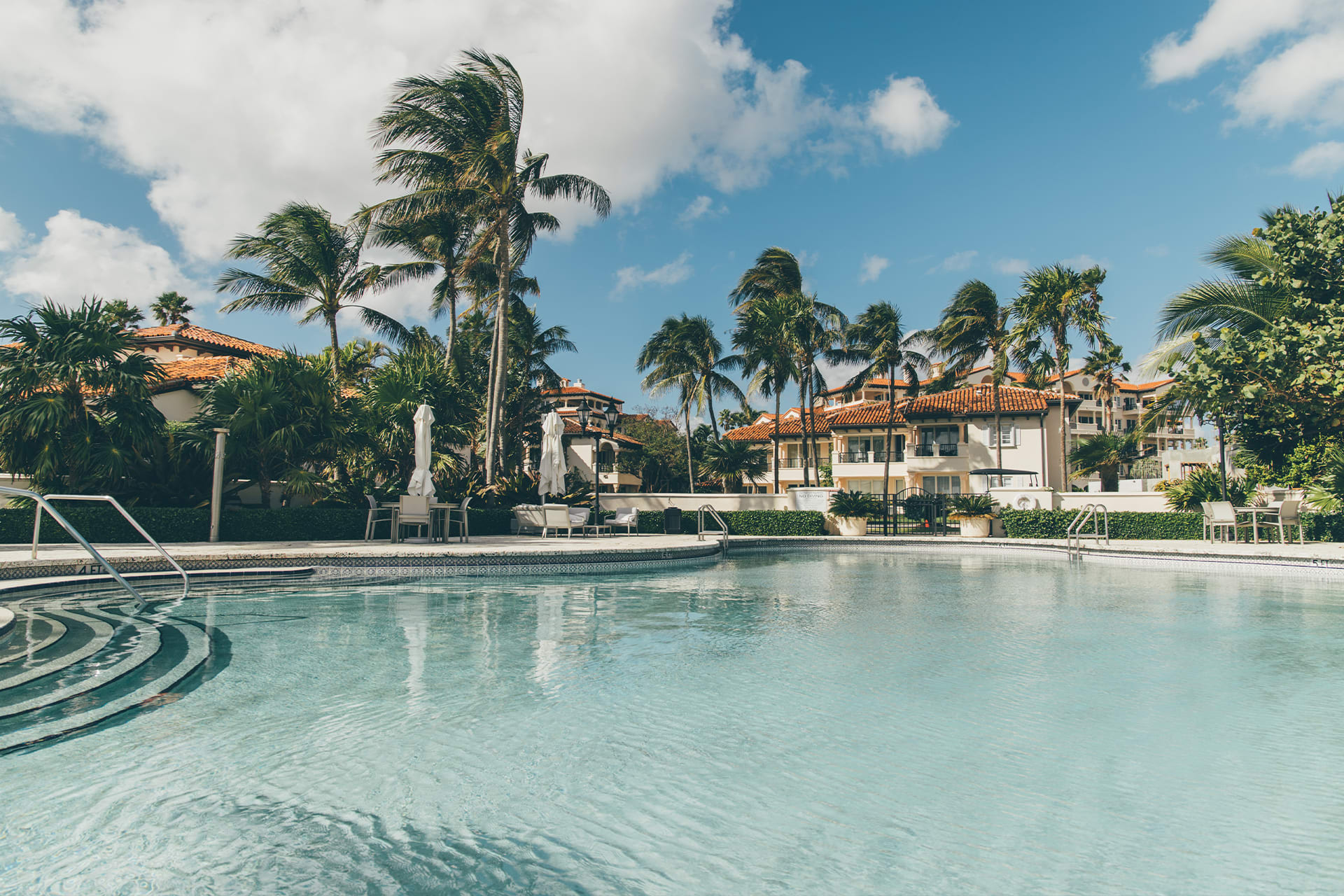 South Florida's Ultimate Golf & Racquet Club Destination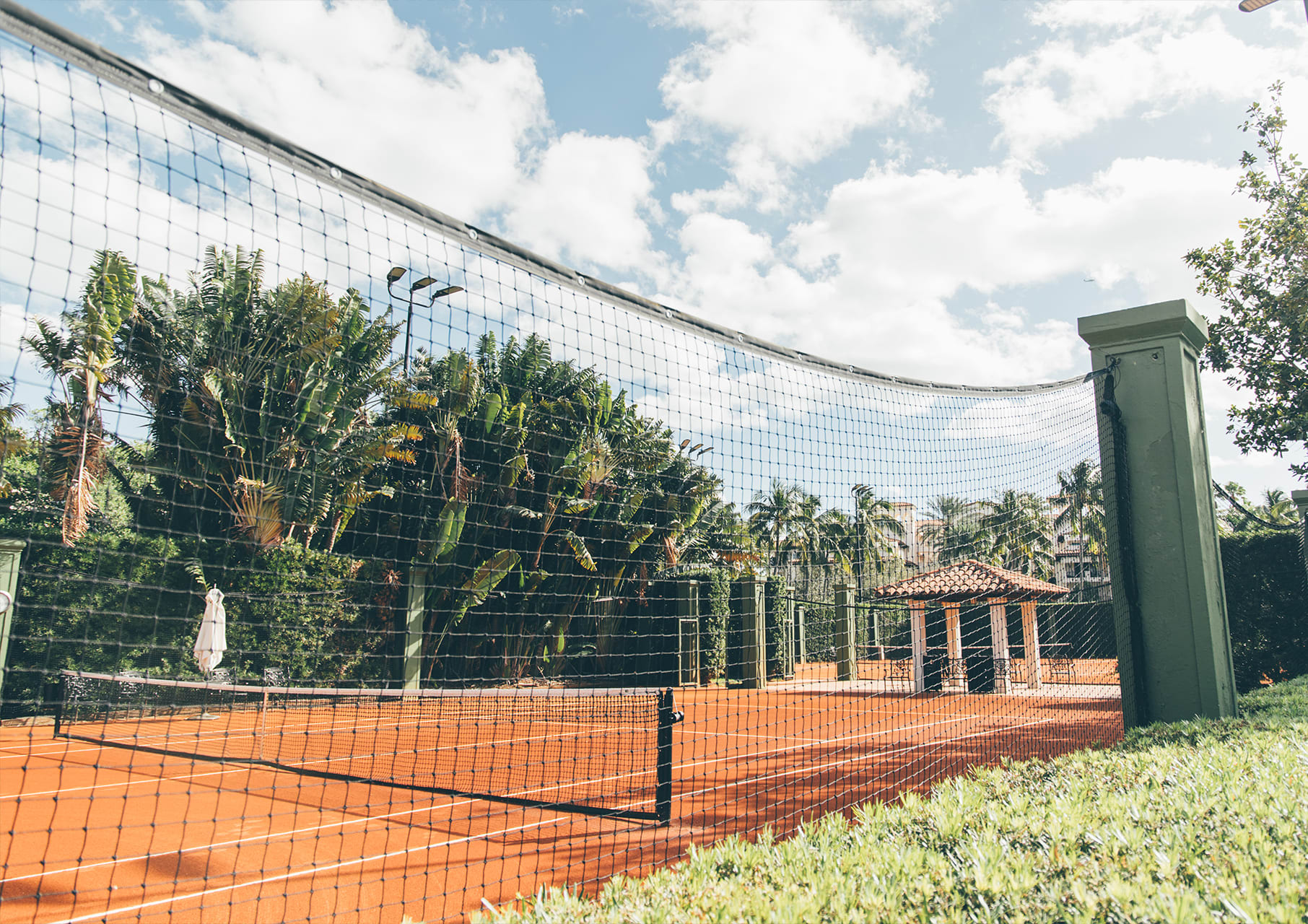 One of the most exciting facilities in Fisher Island is the private Racquet Club. Ranked the top tennis facility in the East Coast region of the United States by Tennis Magazine, this well-manicured and lush green Racquet Club engages members to play all hours of the day. Featuring 17 tennis courts and 4 pickleball courts, players can choose between four different surfaces including 2 grass courts, 5 European red clay courts, 3 hard courts and 7 Har-Tru courts, with nighttime lighting. Due to the clubs Grand Slam tennis courts, prodigious pros and professional players have been known to practice at Fisher Island such as Caroline Wozniacki, Eugenie Bouchard, Andre Agassi, Andy Roddick and Anna Kournikova.
The Links at Fisher Island offers members and guests the affordability to play on a 9-hole golf course, awarded #8 by Golf Digest. Featuring uninterrupted views of the Miami horizon, this exceptional course was designed by world-renowned architect P.B. Dye and is decorated with paspalum supreme grass, laser-leveled tees and strategically placed bunkers. A 10,000 square-foot clubhouse with a golf shop and restaurant is located steps from the Links.
Central Location
Situated minutes from award winning public and private schools, Fisher Island is one of the most sought-after communities in South Florida. North Beach Elementary, Nautilus Middle School, Miami Beach Senior High School, Lehrman Community Day School, The Montessori Academy at St. John's, The Cushman School and Miami Country Day School are close in range and offer advanced placement courses and college preparatory programs. Closer to home, residents can enroll their children into Fisher Island Day School which serves students from Early Learning through Seventh Grade. A family friendly community, there is no reason to ever leave with services like a full-service dry cleaner, bank, car wash and health clinic moments away. Miami International Airport, Port of Miami and Virgin MiamiCentral are a short drive away with neighboring communities such as South of Fifth, South Beach, Mid Beach, Downtown Miami, Brickell, Wynwood, Midtown and Miami Design District no more than 20 minutes in reach.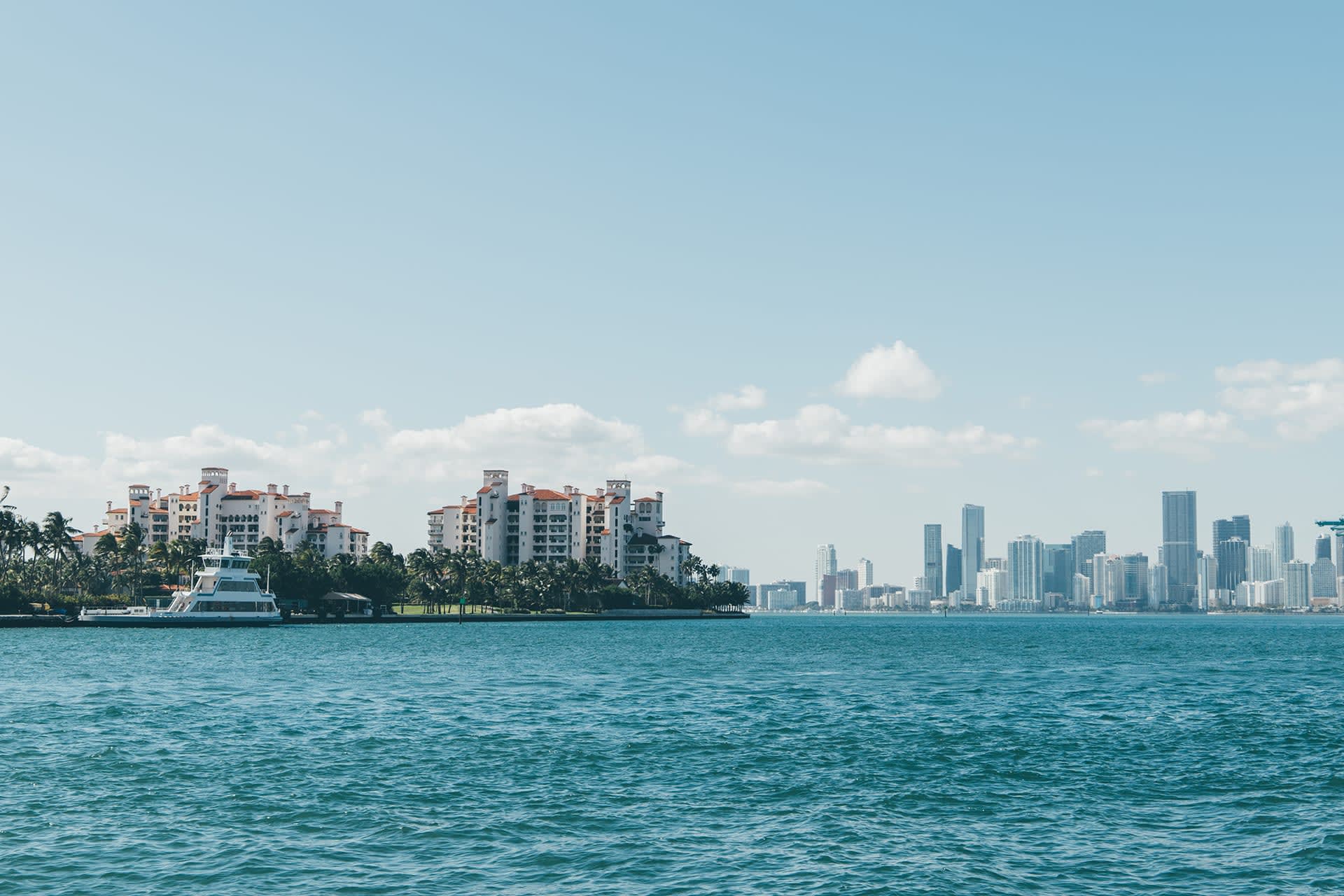 Market Trends in Fisher Island
Properties for Sale - 18
New on Market - 3
Average Asking Price Per Sq.Ft. - $1,865
Average Sales Price - $10,750,000
Average Sale Price as % of Asking Price - 96.1%
Average Sale Price Per Sq.Ft. - $2,484
Average Days on Market of Sold - 0