Welcome to Delray Beach
Something quite special is happening in South Florida: Delray Beach! And it is driven by friends sharing it with their friends. And it has become the number one in-the-know choice for residents shifting all or most of their time to the sunshine state.
It has beautiful beaches, stately waterfront homes, and updated "cottages," in neighborhoods that are cherished for their charm and beauty. And one other secret ingredient...
Delray has Atlantic Avenue! Over one mile of paradise and fun! It starts at A1A with sandy beaches, and stretches well across the Intracoastal, to award-winning restaurants, shops, galleries, arcades, gelato places, live entertainment and beyond. It has been top ranked and celebrated nationally for its dining and shopping. But it is more than that, it is the vibe: like a beautiful night, meeting friends by the water or sitting outside in a cafe, wandering along "The Ave" and ducking in and out of places, with live music cascading across the night.
And because of Atlantic Avenue, the Delray lifestyle and homes are in the highest demand and many look to find a gem that works for them. For example, East Delray is the leading choice because you can walk a few blocks to the beach and to Atlantic Ave. It has a neighborhood called Seagate...named for the famous Seagate Hotel, Spa, Beach & Club that is right there.

East Delray also has an equally lovely area north of the avenue that affords you a walk or golf cart ride to the beach and breath taking intracoastal estates.
There is another cherished area called Palm Trail that is footsteps to Atlantic and nestled along the west side of the Intracoastal Waterway. Then there is Marine Way, Pineapple Grove, Lake Ida, and many in-town options coming every day. But understand there is a high demand for these homes from older updated ranches, cottages, and mansions to new tasteful cluster townhomes and finally $5m to $20m+ architectural masterpieces that rival Miami, The Hamptons, and Newport.
Fortunately, there are also nearby options that are an Uber or car ride from Atlantic Avenue... so you can live in the quietly exclusive Gulfstream, stately Manalapan, the North part of Boca Raton, or the more value geared Ocean Ridge. And they all give you ways to enjoy the beaches, the water, and Atlantic Avenue fun!
At One Sotheby's our savvy team leads the way in Delray Beach bringing insight and value to the search of waterfront, in-town, and championship golf gem properties. Talk with us about your options and then let us take you on one of our famous neighborhood immersions that start or finish on Atlantic Avenue.
A pendant of luxury in Palm Beach County, Delray Beach is one of the most pristine destinations in Florida dawning a three-mile beachfront coastline that's undeniably exceptional. A small-town community with elegant flair, this unpretentious sanctuary offers residents and visitors a kaleidoscope of attractions including everything from art, culture, shopping, nightlife, parks and farmers markets while resting on the backdrop of luxurious Miami vibes in synthesis with the island narrative of Key West. Combining the best of the best of the South Florida lifestyle, Delray Beach attracts tourists from around the world, offering world-class resort facilities including The Seagate Hotel & Spa, Crane's Beach House Boutique Hotel & Luxury Villas, Opal Grand Oceanfront Resort & Spa and Hyatt Place Delray Beach. And for buyers who are looking to sow down new seeds, Delray Beach's family-friendly aura provides for the ideal place to raise a family with award-winning public and private schools positioned throughout Palm Beach County. Top-ranked institutions comprise of Morikami Park Elementary School, Banyan Creek Elementary School, Bridgeprep Academy of Palm Beach, American Heritage School – Boca/Delray and Trinity Lutheran School. Florida Atlantic University, one of the top undergraduate research institutions in the country, is in proximity with five satellite campuses situated throughout Florida.
Located off the undulating waters of Atlantic Ocean, in-between
Boca Raton
and West
Palm Beach
, Delray Beach is in close range to
neighboring communities
, allowing for residents to explore the whimsical and sophisticated cities on Florida's southeastern shoreline. In addition to Boca Raton and West Palm Beach, property owners can discover the vibrant settings of Palm Beach, Boynton Beach, Lake Worth, Deerfield Beach, Pompano Beach,
Fort Lauderdale
, Hollywood and
Miami
. Private and commercial airports are positioned minutes away including Palm Beach International Airport, Boca Raton Airport and Fort Lauderdale International Airport, which is located an hour away, just north of Miami. A picture-perfect postcard destination, Delray Beach is one of the most sought-after neighborhoods in Florida, well-regarded amongst professionals, business executives, young families and tourists alike.
Delray Beach Real Estate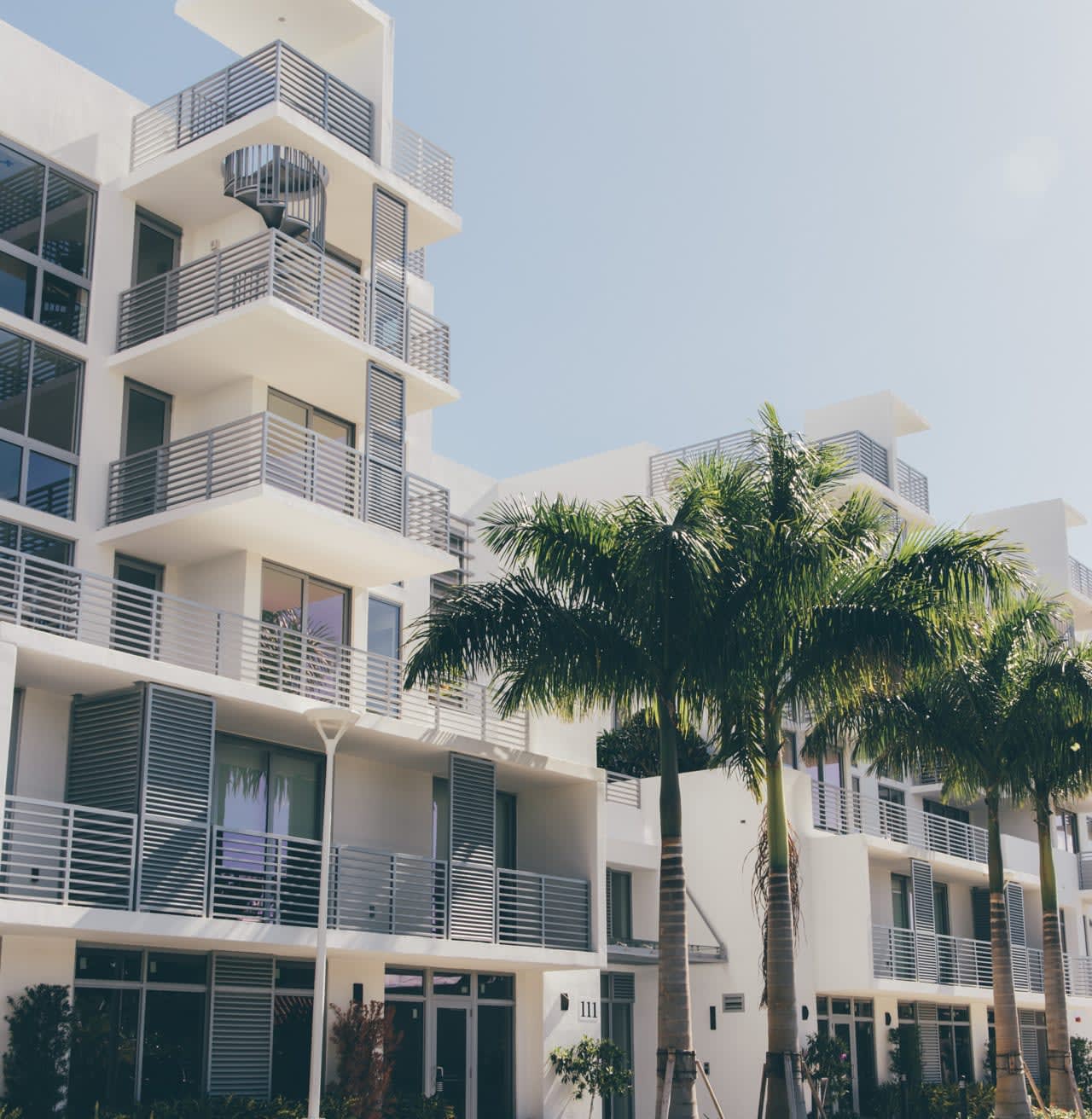 When it comes to luxury real estate, Delray Beach reigns supreme. A prime beachfront location, this elegant with ease community offers some of the most premier residential properties in the state, with a growing market that continues to rise due to the neighborhood's widespread appeal. Whether looking for a tucked-away escape off the Atlantic Ocean or a palatial apartment in the clouds, Delray Beach has something for everyone. From charming white and bright townhomes to seaside new modern condominiums and traditional country-club estates, buyers have a plethora of choices, each reflecting their own architectural character and flair.
However, amid all of Delray Beach's serene condominiums, the most exclusive is 111 First Delray Beach. Located steps away from the neighborhood's prodigious Atlantic Avenue and Downtown Delray, residents can indulge in resort-style living while enjoying the best that Delray Beach has to offer with a variety of fine dining options, world-class storefronts and exciting nightlife venues. White cotton candy beaches and crystal-clear waters can be found only one mile away with a profusion of palm shaded lounge areas and charming private beach clubs. And for those who prefer relaxing in the comforts of home, there is no place better to take in Florida's sunshine than on 111 First Delray Beach's entertainment deck comprising of a heated saltwater pool, summer kitchen, bar, TV and firepit. In addition, each unit features spacious balconies, with select penthouses offering skydeck terraces. Buyers can also choose from multiple floorplans including 1-bedroom units to 3-bedroom units ranging from 705 square feet to 1,614 square feet.
Outside of 111 First Delray Beach, potential property owners can browse a wealth of amenitized buildings in Downtown Delray including Atlantic Grove Condos, City Walk at Pineapple Grove and Astor Condominium. Furthermore, Delray Beach is also lined with breathtaking waterfront condominiums presenting residents with uninterrupted panoramic views of the Intracoastal and the Atlantic Ocean. Some of the most pursued addresses in the area, featuring private dockage, comprise of Banyan House, Delray Beach Club, Seagate Yacht Club, Del Harbour and Barr Terrace. Oceanside communities with laidback cottages and country-club private enclaves with extraordinary mansions remain to prosper such as Delray Village By The Sea, Delray Ocean Estates, Delray Beach Esplanade Homes, Delray Beach Isle, Addison Reserve Country Club, Boca Delray Golf & Country Club, Delaire Country Club, Gleneagles Country Club, Mizner Country Club, Polo Trace Golf and Country Club and Seagate at the Hamlet Country Club. These exclusive neighborhoods come with state-of-the-art facilities, members only golf and tennis clubs and private cabana service making warm weather days on and off the sand easy, accessible and picturesque.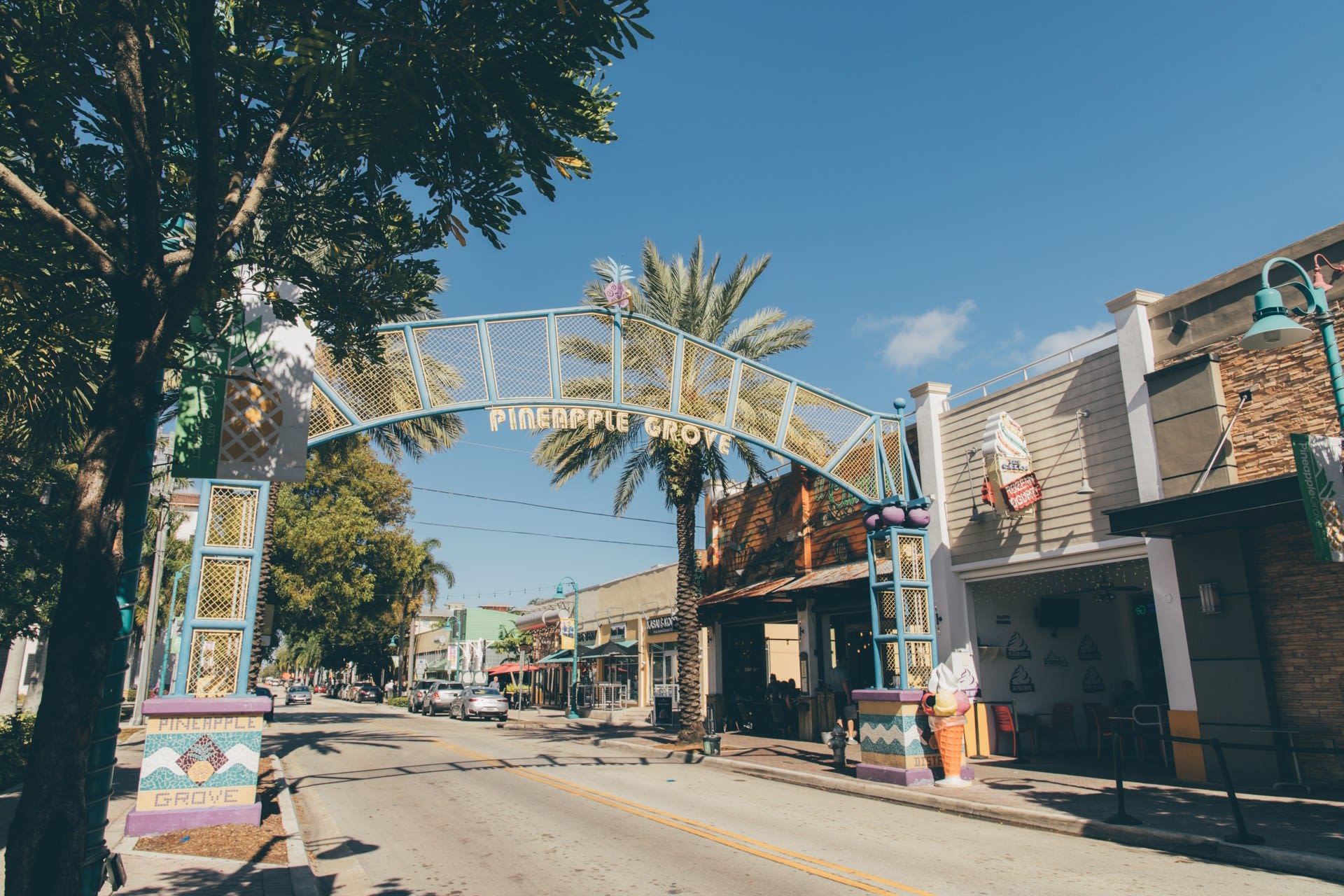 Idyllic Destination With Can't Miss Restaurants, Shopping and Nightlife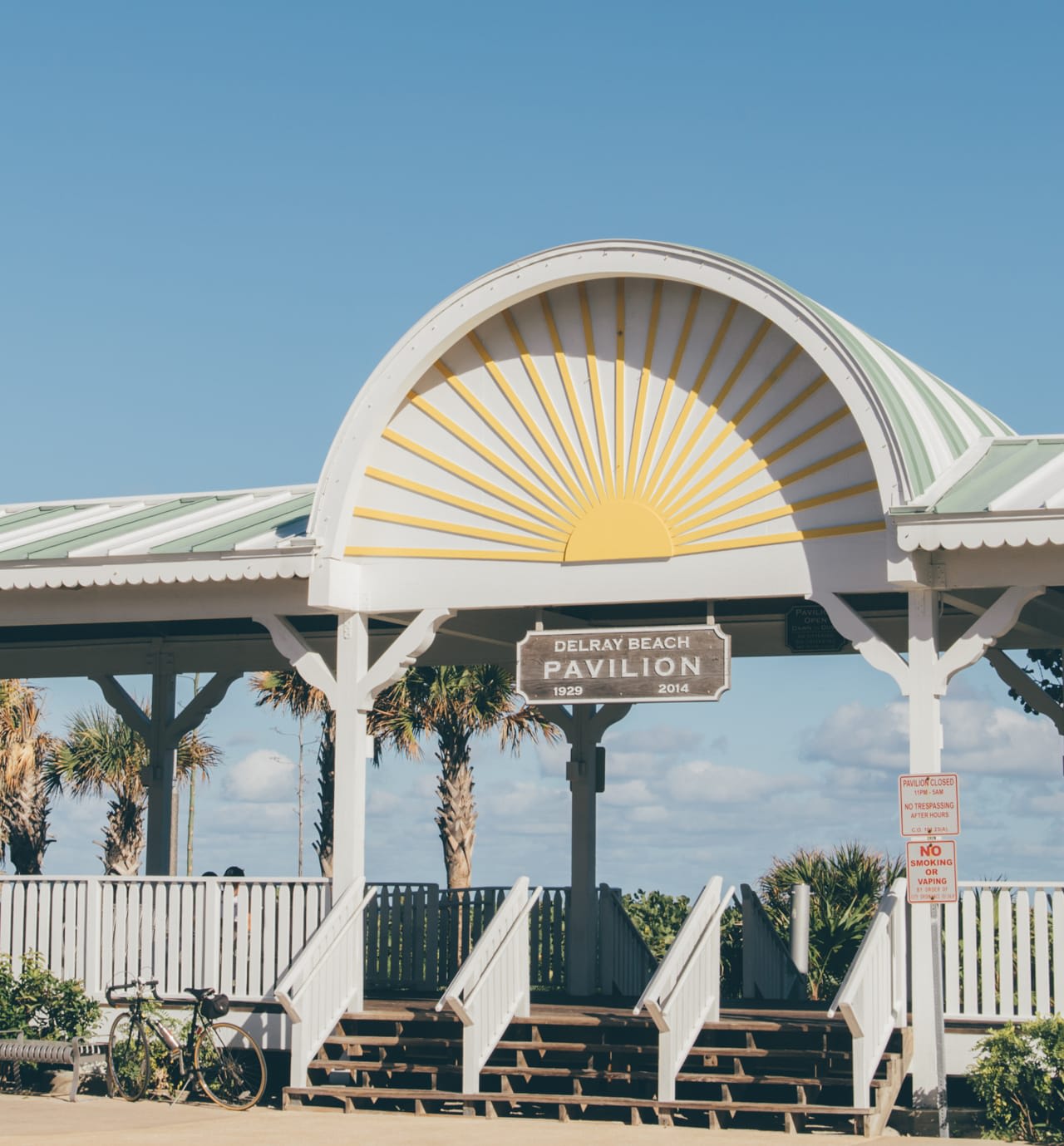 The combination of an exotic beachfront backdrop with low-key dining posts and open-air shopping malls allow for an unusual small town feel with big city sensations. Downtown Delray, known as the heart of Delray Beach, offers locals and visitors a glimpse into one-of-a-kind curated boutiques in amalgamation with eclectic entertaining options. A village-like feel, lending Delray Beach its namesake of "Village by the Sea," this award-winning small town is pedestrian and dog friendly making for a sociable environment. A carpet of decadent top-notch restaurants are planted throughout the area displaying everything from outdoor quaint cafes to multi-ethnic gastronomic eateries. Il Bacio at Prime, The New Vegan, 50 Ocean, Taverna Opa, Deck 84, Buddha Sky Bar & Buddha Garden, Cut 432, Bamboo Fire Café and Jimmy's Bistro are only some of the thriving restaurants that contribute to Delray Beach's growing culinary scene.
Pineapple Grove Arts District, home to dozens of vibrant art galleries, culinary creations, Artists Alley and the Arts Garage, is sprayed with murals and sculptures righteously lending pride of place to Delray Beach's epicenter for arts and culture. Brule Bistro and The Grove are two of the many highly ranked restaurants in the neighborhood.
Delray Beach Greenmarket, Bedner's Farm Fresh Market and The Boy's Farmer's Market offers residents' seasonal produce sourced weekly from local farms. In addition, Delray Marketplace, featuring a swatch of retailers and family friendly attractions, allows for the perfect open-air shopping mall ideal for enjoying a spa day with friends, a romantic movie night or an eclectic meal out.
Market Trends in Delray Beach
Properties for Sale - 500
New on Market - 225
Average Asking Price Per Sq.Ft. - $491
Average Sales Price - $969,011
Average Sale Price as % of Asking Price - 99.6%
Average Sale Price Per Sq.Ft. - $457
Average Days on Market of Sold - 25
Patrick Meyer is recognized as a top Delray Beach real estate agent. Search for luxury condos, penthouses, estates, and homes for sale in Delray Beach below.