The following article was originally published on Villanova University.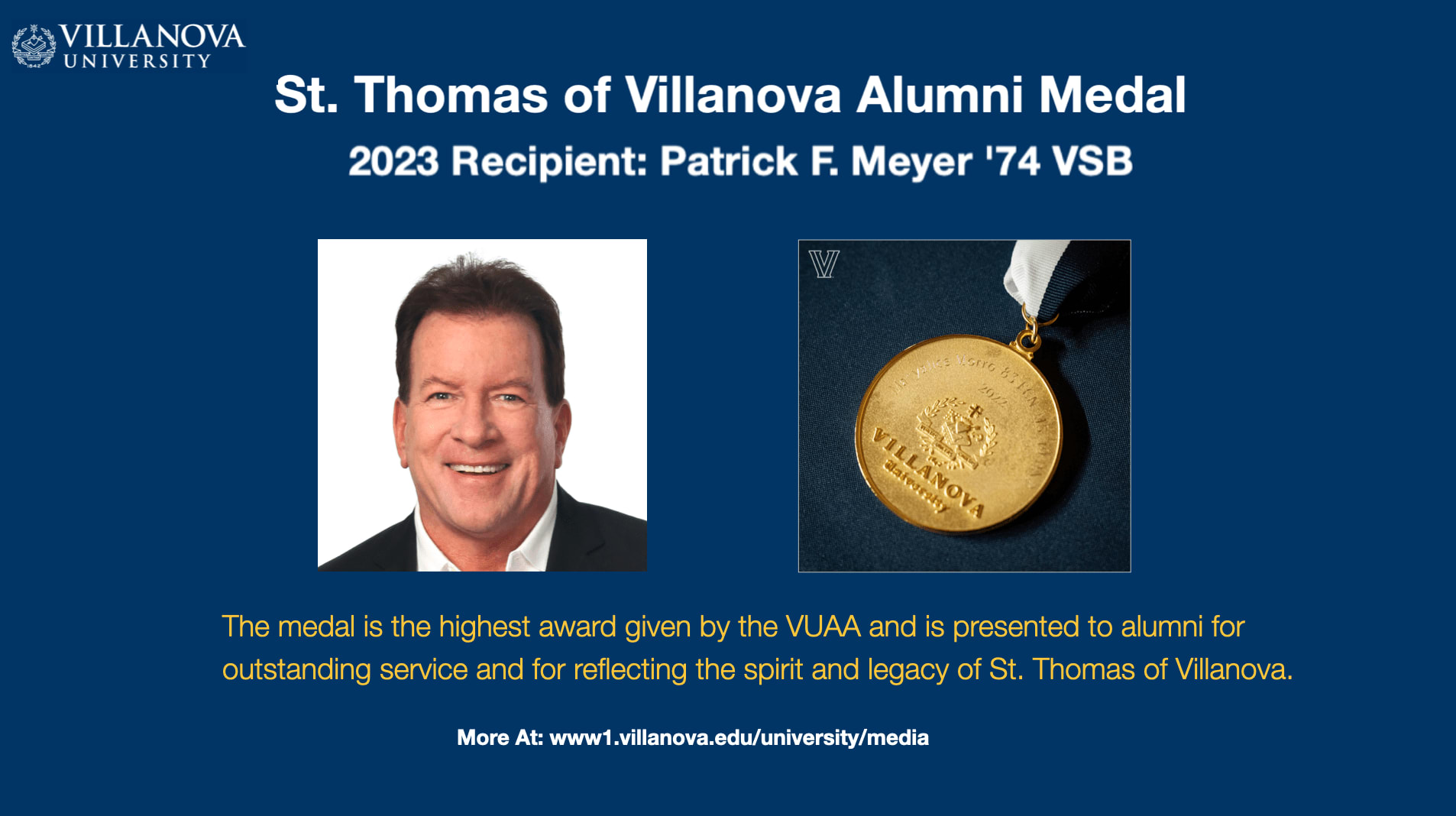 VILLANOVA, Pa.—The Villanova University Alumni Association (VUAA) has announced the selection of Patrick Meyer '74 VSB as the recipient of its 2023 St. Thomas of Villanova Alumni Medal. The medal is the highest award given by the VUAA and is presented to alumni for outstanding service and for reflecting the spirit and legacy of St. Thomas of Villanova.
Meyer is a brand builder and innovator for Fortune 500 companies and emerging tech ventures. He has expertise as a senior marketer and advisor for C-suite executives, consulting for some of the world's most recognizable brands including Unilever, PepsiCo, Procter & Gamble and Nabisco.
Meyer served on the Villanova School of Business (VSB) Dean's Advisory Council from 2004 to 2012, providing advice and guidance on important strategic initiatives for the College. In this advisory capacity, Meyer tapped into his wide array of senior leadership roles extending from his head marketing position at the Coca-Cola Company to his extensive experience at top innovation consultancies. Additionally, Meyer's counsel was instrumental during the creation of the Institute for Innovation and Entrepreneurship, which drives scholastic, educational and professional development opportunities in the areas of creativity and entrepreneurship within the Villanova community.
In 2009, Meyer created and endowed the Meyer Innovation and Creative Excellence Awards in honor of his family and their long Villanova legacy—Patrick '74, Edward '86 and C. Paul '30. The Meyer Innovation and Creative Excellence Awards recognize graduating seniors, faculty and staff creators who embody an entrepreneurial mindset and exhibit leadership in the greater Villanova community.
"I am thrilled to present Patrick with the 2023 St. Thomas of Villanova Alumni Medal," said Sheila Doherty, Associate Vice President for Alumni Relations. "Patrick's passion for helping others, especially students, achieve their dreams and his dedication to strengthening our community is admirable. Patrick embodies our Augustinian values of Veritas, Unitas and Caritas, and we could not be happier to celebrate his many accomplishments."
In 2017, Meyer joined real estate leader Sotheby's and is currently one of the top producers for one of Florida's top realty firms, One Sotheby's. Meyer also serves as CEO of 5 Star, a resource that connects high-net-worth friends and clients with luxury properties. Previously, Meyer served as CEO of marketing innovation consultancy WPP Fusion 5 where he worked with Virgin, Gatorade, Ford and Nike and was President NA for Sourcebits Technologies, a leader in mobile apps, and worked with Apple, Google and Facebook.
Meyer is a sought-after speaker and frequent media contributor, providing insight as an industry thought leader in mobile, social and e-commerce. He has authored books including "Steve Jobs and the World of Mobile" and was one of the original speakers at Villanova's first TEDx event.
"I have always been inspired by and grateful to Villanova for the impact it has had, and continues to have, on my life," said Meyer. "My goal has always been to advance the mission of the University by bringing innovative opportunities and programs to students. I'm living proof that the Villanova experience does not end at graduation and is a lifelong bond."
Graduating from the Villanova School of Business in 1974, Meyer currently resides in Delray Beach, Fla. He stays connected to Villanova through his Regional Club, serving as co-president for the Club of South Florida from 2017 to 2022, and participating in various University events such as St. Thomas of Villanova Day of Service and 1842 Day. Meyer remains involved with his fraternity, Delta Tau Delta, and regularly organizes gatherings with his fraternity brothers for Homecoming and Reunion.
About Villanova University: Since 1842, Villanova University's Augustinian Catholic intellectual tradition has been the cornerstone of an academic community in which students learn to think critically, act compassionately and succeed while serving others. There are more than 10,000 undergraduate, graduate and law students in the University's six colleges—the College of Liberal Arts and Sciences, the Villanova School of Business, the College of Engineering, the M. Louise Fitzpatrick College of Nursing, the College of Professional Studies and the Villanova University Charles Widger School of Law. Ranked among the nation's top universities, Villanova supports its students' intellectual growth and prepares them to become ethical leaders who create positive change everywhere life takes them. For more, visit www.villanova.edu.