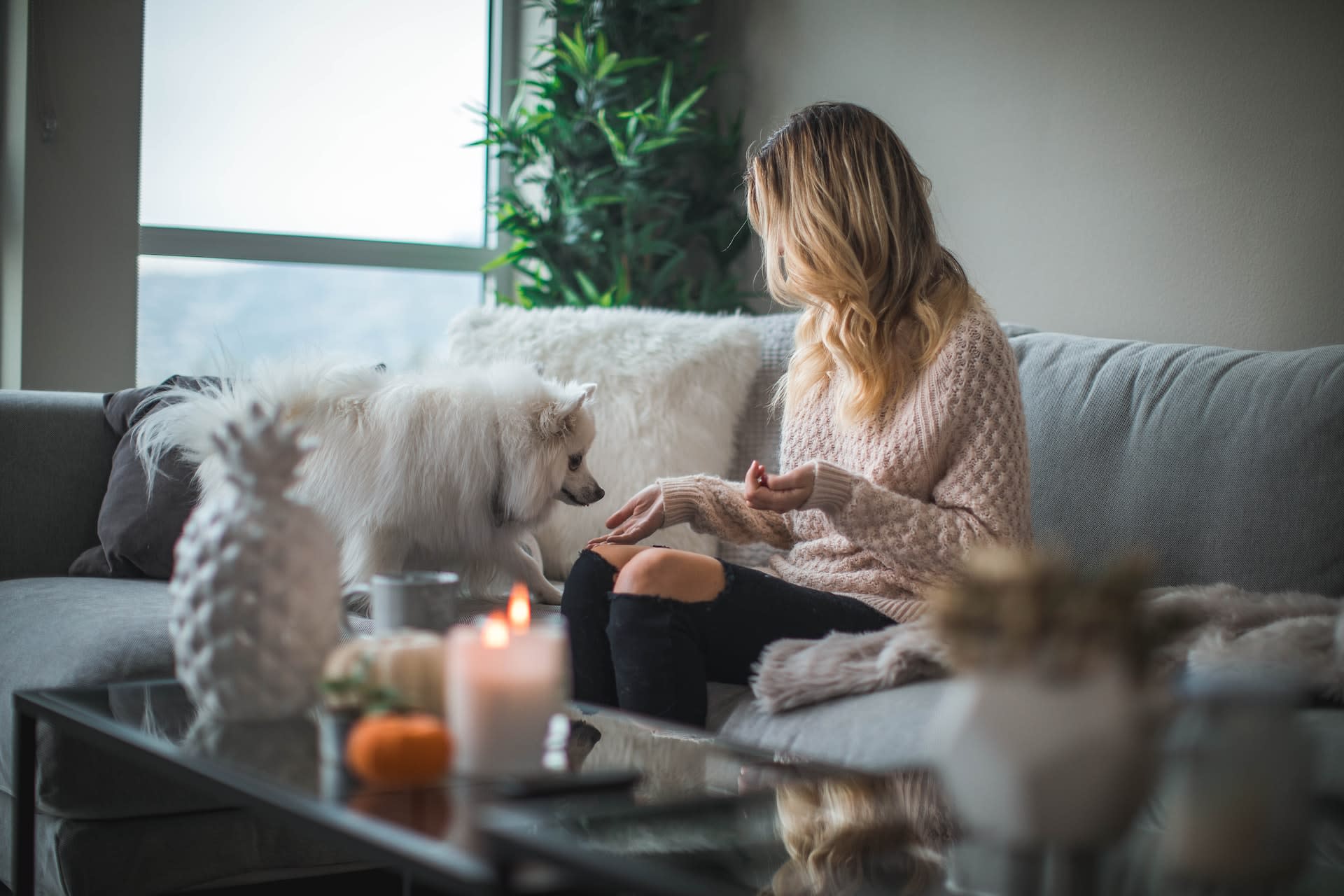 Over
48 million households
have at least one dog, with the number of cat-friendly households not far behind. And with so many individuals choosing to call the Sunshine State home, finding pet-friendly properties is front of mind for many. As you prepare to move to Delray Beach, learn what to expect from properties in the area and how to find the right pet-friendly home to make your own.
Delray Beach Condos and townhomes
When it comes to investing in Delray Beach condos and townhomes, pet owners can expect to find that around 68% of listings are pet friendly. However, about 32% of the buildings that allow pets still have a few restrictions. Certain buildings may have a limit on the number of pets allowed in units or the size of the pet. Particular dog breeds may not be permitted on the property, as well. With a wide range of options available, buyers are likely to find a home that fits their needs, but the availability of pet-friendly homes can vary from season to season.
Ocean and Intracoastal listings
For ocean and Intracoastal listings, buyers will likely find fewer pet-friendly options. Compared to Delray Beach real estate as a whole, only around 40% of these types of listings welcome pets. Of that 40%, nearly half have restrictions on the type of pet allowed to live on the premises. As you search for your next oceanside condo in Delray Beach, it'll be important to make sure you're clear about what you're looking for from the start. Informing your realtor and inquiring about each building can ensure you invest in a place that's perfect for you and your pet.
Gated communities
Gated communities offer some of the most pet-friendly options for interested buyers. Nearly 100% of gated community properties allow pets, with 80% of those properties being restriction-free. In gated communities, it's likelier to see restrictions for certain types of
aggressive dog breeds
than in other areas.
Buying pet-friendly real estate
As you search for pet-friendly
Delray Beach condos for sale
, there are a few things to keep in mind. If you're a dog owner, you'll want to search for homes near some of Delray's best parks as well as consider any seasonal fireworks displays that may take place nearby. Consider the walkability of your unit and review building policies about caring for pets during tropical storms and hurricanes. But before you get into the details, start by talking
with your realtor
.
Let your Delray Beach realtor know
If you're searching for pet-friendly Delray Beach condos, let your realtor know that you have a pet and what type of pet it is. This will help them as they narrow down the search and find properties that are suitable for you. If your pet has any specific needs or requirements, such as a fenced yard or proximity to a dog park, be sure to communicate this to your realtor as well. Your realtor may have experience working with pet owners and may be able to offer recommendations on pet-friendly communities or associations. Don't be afraid to ask any potential realtors about what they know about pet-friendly units in the area.
Review pet-friendly listings
Once you find a realtor to partner with and let them know about your pet, you can begin to review listings. Many multiple listing services (MLS) allow you to search for properties based on various criteria, including pet-friendliness. Use the advanced search feature to filter for properties that allow pets. You'll also want to work with your realtor to navigate the condo or townhome association rules and regulations to ensure that the property is truly pet-friendly. Some listing pages may not accurately represent a building's pet policies.
As you explore potential homes, keep an eye out for those located near parks, walking trails, or other pet-friendly amenities you may need. Delray Beach and the surrounding area have a number of dog parks, including Burt Aaronson South County Regional Park, Lake Ida Park West, and John Prince Park.
Ask about pet policies
When you attend a viewing, be sure to ask the seller's realtor or the property manager about any restrictions on the type, size, or number of pets allowed in the condo. Ask if there are any additional fees required for pets, like pet rent, deposits, or additional cleaning fees. You'll want to clarify any rules around whether pets are allowed in common areas or on elevators. Are there condo noise restrictions? What happens if there are pet-related incidents on the property? Make sure you have the contact information for the condo association on file in case you have any additional questions about the pet policy or need to make arrangements for your pet.
Once you've made an offer
After you make an offer, be sure to confirm the home's pet policy again. Be sure that your offer includes all the terms related to your pet, such as the number of pets, the type of pets, and any additional fees or deposits. When you hire a home inspector, make sure they look for any signs of pet damage or features that may be unsafe for your pet. Once you've moved in, update your pet's information with your new address and contact information. Make sure you have their veterinary records, microchip information, and any necessary licenses up-to-date. Your condo building may require having this information on hand as well.
Service animals
Service animals
are usually permitted in all Delray Beach properties. Potential buyers should ask their realtor or the building's HOA for its service animal requirements. Buildings may require tenants to provide a letter from their physician and documentation that certifies their pet as a service animal, and they may need additional information regarding your pet's service function, trainer, and identification. Emotional Support Animals may not be considered in the same vein as trained service animals, and different documents may be required for those.
Find pet-friendly condos in Delray Beach
As you consider a move to Delray Beach, work with a realtor who can help you find the perfect place for you and your pet. Beyond being a top producer at One Sotheby's and a market expert from Delray to Miami Beach,
Patrick Meyer
is a lifelong pet owner. His dachshund Duke is his regular wing dog (
see Duke featured
in Delray Scoop video) and is often with him as he researches real estate and lifestyle options for his clients in South Florida. You'll want to partner with Patrick for your next investment.